Septic Tank Installation Victoria, BC
Imagine yourself standing in your backyard, surrounded by lush green grass and tall, swaying trees. The sun is shining brightly overhead, casting a warm glow on everything it touches. You take a deep breath, inhaling the fresh, crisp air that fills your lungs. It's a perfect day to enjoy the beauty of nature.
But as you look around, you notice something amiss. A foul smell wafts through the air, assaulting your senses and making your nose scrunch up in disgust. You follow the scent, tracing it back to a small patch of ground near your house. It's then that you realize the source of the stench – a malfunctioning septic tank. What do you do? Time to call your Septic Tank Contractor!
From Stinky Mess to Sparkling Success: Our Septic Tank Installation
     At Victoria Excavating, we offer you a wide range of services related to septic tank installation and maintenance. We are able to assess your property's needs and help you choose the ideal type according to its size and usage. Our experienced team has been working with septic tanks for many years, so you can trust us for quality service that meets all current standards and regulations. If you are looking for reliable and affordable Septic Tank Installation and maintenance services, contact us today!
Request A Free Instant Quote
Perc Test And Land Survey
The Perc Test, also known as a soil and drainage analysis, is a must-do before installing a septic system. It's a legal requirement to ensure the soil conditions and drainage capacity are suitable for the new tank. Don't skip this crucial step in verifying the site's viability.
Don't risk property mishaps! Get a land survey to pinpoint your exact location. Avoid headaches like installing a septic tank in the wrong spot or damaging your neighbor's land. Lawsuits can be costly and time-consuming. Protect your wallet and save time with a surveyor's expertise.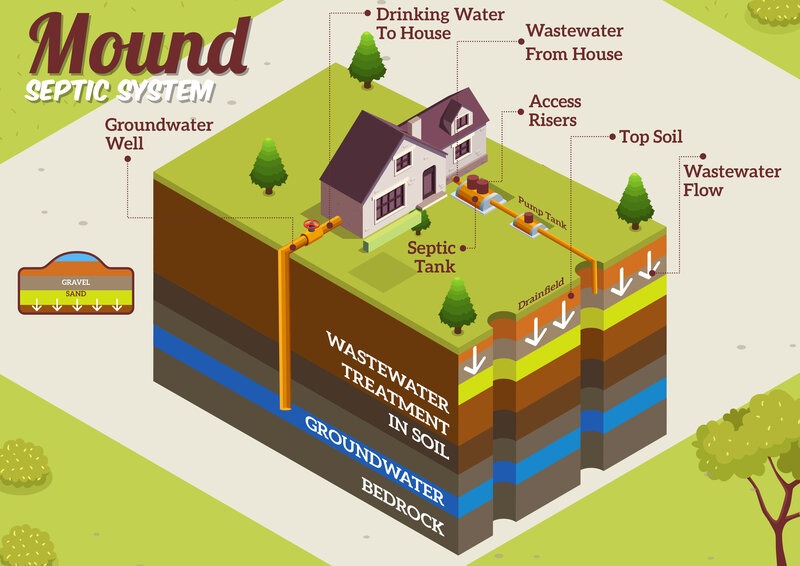 The purification of your waste by a Septic System Installation makes it possible to retain hazardous waste and wastewater in order to treat them in a clean way, while only accepting "clean" components from the environment. The waste treatment is conducted in stages due to various biological activities that take place in the tanks of septic systems. There are numerous types of septic systems on the market, with each design being designed for a specific budget and home requirements.
     By a large margin, the Concrete Tank are the most popular choice because they are much cheaper and their durability and longevity outclass all the others. Talk to our team about their utilities and differences.
MAINTENANCE AND INSTALLATION
We know how expensive a sewage system installation is, and we want to help you make an informed decision. We will advise you based on the size of your home, the number of people living there, and your budget. Having your septic system installation done by Victoria Excavating provides assurance that the job was done correctly and that your installation will last for 25 years if properly maintained. We will advise on the best Septic Tank Design according to your field and location.
There are several advantages of a Septic Tank:
Several inexpensive measures can contribute to have a long lasting septic tank performance:
Say Goodbye to Nasty Odors and Hello call your Septic Tank Contractor
Victoria Excavating offers installation and maintenance of your septic systems. It is critical to maintain a septic system in good working order to prolong its durability,  longevity and its optimal functioning utility. Because of the accumulation of grease and solid material, blockages can occur. This avoids the risk of pipe obstructions and thus enables efficient sewage treatment. Poor maintenance causes damage to your tank, presents a health hazard, and may cause you discomfort owing to the smells that might be released. Also, having the right Drainage System facilitates the workload on your septic system.
Are you tired of dealing with the constant hassle and inconvenience of a faulty septic tank? Are you ready to take control of your home's sanitation and ensure a clean and healthy environment for you and your family? Look no further than Victoria Excavating for all your septic tank installation needs! Call our pros at Victoria Excavating for guaranteed installation and professional maintenance.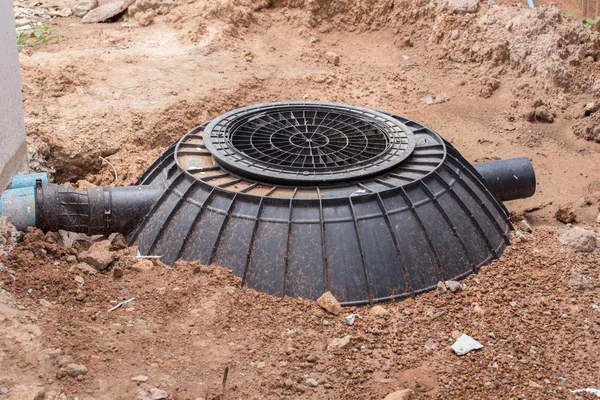 FAQ About Septic Tank Installation
What is the cheapest septic system to install?
There is no definitive answer on Septic System Installation Cost since it depends on a number of factors, including the size and complexity of the septic system, whether you're installing a new or upgrading an existing one, and where you live. However, overall it's generally cheaper to install a septic tank than to rely on CSO (Close-Source Occupational) waste disposal.
How much does A Septic Tank Cost?
The installation cost can vary depending on the location, size and complexity of the system. The average cost for a new septic system is around $16,000. Upgrading an existing system typically costs less than $10,000.
Can tree roots damage a septic tank?
Yes, tree roots can damage a septic tank. Root growth can expand the footprint of an existing hole in the ground and push against or even destroy a septic tank's foundation. Additionally, tree roots may encroach on and contaminate groundwater that enters the system through leach lines or other openings. If you have concerns about your septic safety due to tree roots, consult with a local plumber or contractor who is familiar with tanks and sewers.
how do you fix a failed septic drain field?
If you have a failed septic drain field, you'll need to truck in a professional plumber to repair it. The failure may be due to an underlying issue with the soil or drainage system, and the plumber will likely need to excavate and replace the entire trench. This can cost several thousand dollars.
What takes place during pumping service?
A septic pumping service involves removing excess wastewater from a septic system. This can be done using a variety of methods, including pump-out and vacuum systems. When the service is complete, the plumber will leave you with a report detailing how much wastewater was removed and how much remained in the system.
Septic Tank Decommissioning
When your septic tank is ready to be decommissioned, you'll need to call a professional. Decommissioning will involve removing the entire system – from the tank to the soil beneath it – and disposing of all of the waste materials responsibly. When done correctly, this process can be environmentally friendly and cost effective. If you abandon the property it might be necessary. If you are replacing a septic tank, We'll guide you through new innovations and process.
How do you pass a septic inspection?
In order to pass a septic inspection, your system must meet all of the following requirements:
-The tank must be installed properly and have an adequate number of leg pipes leading into it.
-All piping and drains connecting to the tank must be installed in accordance with local codes and regulations.
-The septic system must be inspected regularly and any penalties assessed for violations will need to be corrected.
The condition of the soil will also affect septic tank cost. If your soil is dense and clay-like, a traditional septic system may not be suitable. In these cases, you may need to install a subsurface drainage system or use a sanitary landfill instead.
Septic Tank INstallation Victoria, BC
When it comes to septic tank issues, the decision to replace or repair is crucial. You need to take into account the age of the tank, its condition, and the extent of damage. If the tank is old and showing signs of wear and tear, replacing it might be the wisest choice. On the other hand, if the damage is minor and the tank is relatively new, repairing it could be a more cost-effective option. Victoria Excavating can evaluate your tank's condition and provide expert guidance on the best course of action. By making the right decision, you'll ensure that your septic system operates efficiently and safely, minimizing the risk of contamination and potential health hazards. Give us a Call Today!